Largo Music Course Directors and Tutors
Stephen Reay - Bassoon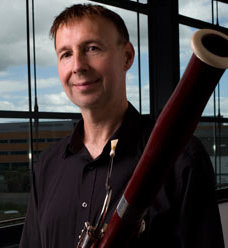 Although Stephen Reay was born in London, both his parents were born on Tyneside and come from a long line of Geordies. He took up the bassoon when he was fifteen years old and went on to study with Gwydion Brooke at the Royal Academy of Music where he was one of the few bassoonists to win the Academy's Recital Diploma.
For several years he played as guest Principal with the Philharmonia, including performances of Mozart's 'Sinfonia Concertante' at the Royal Festival Hall and recordings with Itzhak Perlman and Giulini of the Beethoven 'Violin Concerto' in 1980.
In 1981 Stephen Reay was made Principal Bassoon with the Northern Sinfonia and has appeared regularly as soloist. In 1986 he gave the first performances of Robin Holloway's 'Bassoon Concerto', a Sinfonia commission, later broadcast on the BBC. In 1998 he gave the world premiere of Judith Bingham's Bassoon Concerto, another Sinfonia commission.
Recordings include Strauss' 'Duet Concertino' with Richard Hickox, Martinu's 'Sinfonia Concertante' with the City of London Sinfonia for Virgin Classics, the first performances of Joseph Horovitz's 'Euphonium Concerto' arranged for Bassoon and Chamber Orchestra with George Malcolm, J C Bach's Concerto with the Ulster Orchestra and recitals on Radio 3's Concert Hall.
Stephen continues to make regular guest Principal appearances with the Philharmonia, including a performance of 'Scheherezade' with Gennadi Rozhdestvensky in Madrid and Lisbon and most recently with the London Symphony Orchestra in their Vaughan Williams Series at the Barbican. In 1997 he was made an Associate of the Royal Academy of Music
Stephen very much enjoys teaching and is involved in coaching the Young Sinfonia and the 'Cobwebs' Orchestra, an adult amateur group that meets in the North East under the auspices of the Northern Sinfonia. He has been a tutor at Harrogate for many years and regards the course as one of the highlights of his year and is inspired to help wind players achieve higher levels of musicality in the tradition of the great English wind players who taught and played with him.